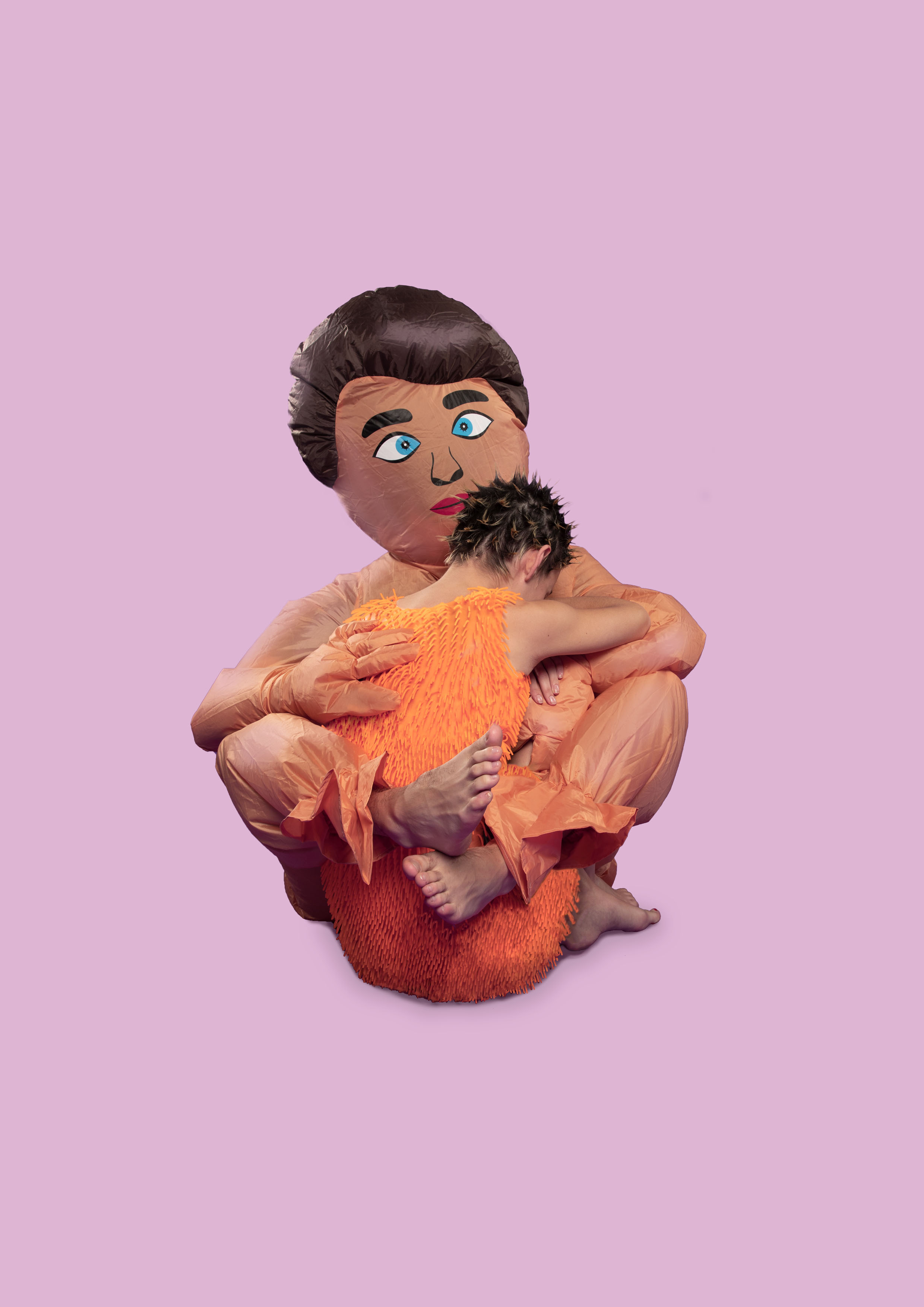 IT'S OKAY
Beep beep, a gentle wake up call, time for our favourite game, The Art of Snoozing. Oh, wait! There it goes again, beeping away, GAME OVER. Rise and shine! BLINK, BLINK, BLINK, and at the gym, ACTION: Pump up! Stretch out! Fly away! Out in the streets you go, the energy of the night is thrilling, but doubt remains while chilling: Or?! The electricity of the lights, the crowd cheering, the sweat on your back.
Put your back into it. In your favourite crease of the couch, or chase the moment and GO!
Party-animal or couch-potato? Muscle-man or lazy-bones? Deciding is tough, but when you finally throw off your duvet, you r e c o n s i d e r...
Collectie Arnhem 2020 celebrates this inner dilemma we all have: to act or not to act. With our collection we want you to rejoice in whatever choice you make and not feel paralysed by making the wrong one. To simply embrace a duality that afflicts us all. In our design process we analyse the everyday weighing up of action and retreat. We developed two identities that represent these two contrasting qualities.
The Drooper is the soft side within us, the part that decides to lounge instead of undertaking. Embodied in comforting drapey volumes, we referenced sleepwear to channel our inner couch potato. Undefined silhouettes were twisted, morphed, and taken out of context so as to have a spontaneous approach to our shape research.
The Do-er is the side of us that sees it all possible. Inspired by our dynamic and determined moments, where we feel that only the sky is the limit. Through referencing activewear and pumping up materials, silhouettes and garments we express the perpetual drive of humans to outgrow themselves and others. This resulted in energetic and powerful shapes, airy fabrics, and sporty finishings.
With our collection we want to give you a sense of relief and for you to celebrate this duality with us, it is ultimately what makes us human.
So, what are you today?
REMEMBER: It's okay
DESIGNERS
Alberto Bermudez Oviedo | Alicia Mesecke | Eva Vrolijk | Joëlle Leenders | Jung Kim | Kai Li | Kees Hollander | Kenza Iatrides, Kristin Ferrell | Marco Blazevic | Michael de Geus | Rachel Klok, Rosa Kampinga | Sterre Bodeldijk | Wolter Pot | Zoë Mesman
Lecturers
Rens de Waal | Lenn Cox | Rixt van der Tol | Maartje Boer
Supporting Artists
Kees de Klein | Maaike Fransen
Consultant
Rolien Zonneveld
Production Support
Alieke Broekhuizen | Juuke Schoorl | Sunanda Koning | Walter Huinink | Wendy Barten
Show Production
Rachid Naas
AV Director
Bae Jeon
Head of Make-up
Sunanda Koning
Make-up Artists
Afra Igbinosum | Britt Haakman | Charlie Till | Laurèl van Eijndt | Noa Cancillo | Riki Veeris | Willemijn de Gans
Hair
Bianca Dominicus - T'Haarhues | Erik Dulos - Hair and Faces
SHAPE
A hungry search for strong silhouettes is present through the lineup of the collection. Morphing played a key role as the principal method in the shape study. Flat patterns were morphed and blobbed in the computer and by hand. Afterwards being stitched together to surprising results. A contemporary take on crinolines and padding created a new basis for fashion basics such as tracksuits, eveningwear and denim to be adapted to. This resulted in new shapes such as tailored hunchbacks, absurd promdresses and exaggerated trackpants.
In some instances these morphed shapes were also left raw, representing a punchy wave of colour or print, or an unrecognizable shape framing the body.
MATERIAL
Recognizable and mundane fabrics were chosen to accentuate the comfortable and daily life settings in which we either "droop" or do.
Velours and feather weight viscose invite us to relax and take it easy. While glitter denim and satin give the sweetest but most effect wake up call and reach for the stars.
Additionally, a sense of humor and play is present with the experimentation of classical ornamental motifs in garments. Inflated and morphed paillettes give birth to an unexpected and lazy type of elegance.
COLOUR
The colour palette was influenced by the wish of communicating comfort and an ecstatic sense of pop sensibility.
The sweetness of baby blue is accompanied by waves of pistachio and cotton candy pinks. These tones are put in contrast with the electric and dynamic heatwave of neon orange and cerulean.
CAMPAIGN
The campaign images of Collectie Arnhem 2020 were shot and edited by the Collectie Arnhem team, supported by Kees de Klein. For additional information and high resolution imagery, please contact fashiondesign@ArtEZ.nl.
AVAILABILITY
After the show, the collection will be available for publication purposes. For inquiries, please contact fashiondesign@ArtEZ.nl. The collection will be presented oncemore during the ArtEZ Fashion Design graduation show in June.
CONTACT
For any inquiries, please get in touch with fashiondesign@ArtEZ.nl.
SPONSORS
Meester Koetsier Foundation, ONS., Bussiness Acceleration, Sportsereen, Humanoid, Dolfing
SOCIAL MEDIA